PRO CRASH COURSES
Duration : 15 days
Why you should do Pro Crash-Makeup Course?
There are a lot of advantages of doing our Professional Pro Crash-Makeup Course. This course help you as a professional life as well as personal life. By doing our course you can work as a Makeup Artist, not only for others but you can style yourself independently.
Course Content
Product Knowledge : In this course we'll provide knowledge about Products.
Face powder – the basic element
Face powder can brighten the complexion, hide enlarged pores or small wrinkles, sculpt the face or remove the shine of the oily skin. Yet the best quality of face powder is protecting of the skin from harmful environmental hazards and not allowing dirt and pollutants to clog the pores. Give your friend a nice, pretty powder brush, because face powder is better applied with a brush than a sponge applicator.
Lipstick – the school of seduction
Full soft lips always look so sexy. There are many lipsticks that along with visually enlarging the lips also moisturize them and add extra shine, making them even more tempting. Good lipsticks contain vitamins and moisturizing elements and are suitable for sensitive lips. Before buying lipstick for your friend make sure that she is not allergic to any of the ingredients or buy one of a brand you have seen her use before.
Concealer – the secret weapon
The concealer is truly the woman's best ally. It can help you out in desperate situations, hiding your pimples, freckles or signs of fatigue. It is a great gift, but you have to be sure that your friend uses foundation regularly, because concealer is applied only over or under the foundation. Choose concealers which do not contain fats, because otherwise they will facilitate the formation of blackheads. Many of the quality concealers contain tea tree oil or other anti-bacterial agents.
Foundation – the must-have
Foundation is the base for all makeup. It enlivens your face color, evens out the surface of your skin and covers up small imperfections. Oily skin can take advantage of the foundations with a matting effect. Mixed skin types should use liquid foundations and dry skin should seek out foundations with a thick, velvety texture. You can also buy foundation with toning, nourishing or lifting components.
Coloring particles in the foundation can seep deep into the pores and clog the outlets of the sebaceous glands. This can have some unpleasant consequences for the oily skin, so if your friend has this skin type, you should either select her foundation more carefully or go for another present altogether.
Blush – the effect of innocence
Rosy cheeks are an excellent way to attract attention. They give you a healthy look and a fresh appearance. Just like foundations, there are different kinds of blushes with different ingredients and textures: creamy, liquid, gel, powder or compact. The right choice will depend on the style and skin type of your friend. If her skin is oily, get her powder blush. The most suitable variety for normal and dry skin is the creamy or liquid blush. Also, blush can be applied not only to the cheekbones but to the forehead, temples and chin in order to optically reshape the face.
Mascara – the angel wing lashes
The good mascara can turn the eyelashes into true acrobats, enlarging them, elongating them or curling them beautifully backwards. Waterproof mascaras are suitable for pool and sauna lovers. Health-fanatics who must have their daily jog regardless of the weather, should wear moisture-proof mascara, while ladies who prefer the indoors can only wear clear gel mascara in order to create the wet lashes effect. Mascaras have complex chemical ingredients and can cause allergic reactions in some women. If your friend is prone to allergies, you should find her a hypoallergenic mascara. This will surely be appreciated.
Eye shadows – the harmonizer
Day, evening or party makeup is not a problem for those who are not afraid to experiment with colors, textures and shine. Here is where you can let your imagination soar. The more colors in the pallet, the better. Eye shadows can be creamy, powder or liquid and all of these varieties are fun to use. Make sure to take into account your friend's color preferences.
Eyeliner – the graphic designer of the eye
Many women can't imagine their makeup without eyeliner. When buying eyeliner for your friend you have to make sure that it is hypoallergenic and easy to remove. You should be especially careful if your friend likes to highlight the inner corner of her eye, because the risk of irritation and allergic reactions is greater in this sensitive area.
Colour Wheel :Have you ever wondered, how is it that professional makeup artists manifest such fine jobs for fashion, ramp, photoshoots and bridal makeup whilst you stay stuck wondering what colors to use and what not to use? There is a secret here – the color wheel makeup chart, which most professional makeup artists have learnt and studied about, and wouldn't tell you much as well.
Why Is The Color Wheel Makeup Chart So Important?
The color wheel makeup chart is the platform through which the Makeup Artist Basics are born. Let's take an elaborate look here at the primary, the secondary and the complimentary colors on the wheel, and understand the basics of using color in makeup and cosmetic chemistry too.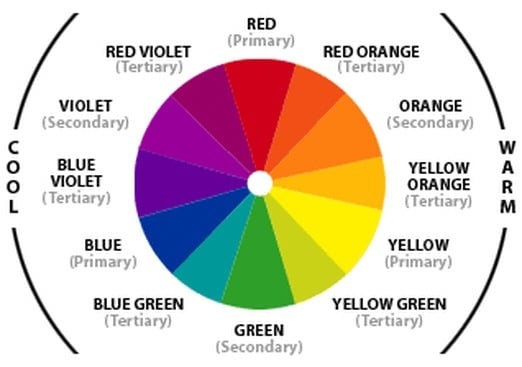 Fundamental Of Application : This course is the first step towards building your self as a professional in the field of Make-Up. This course includes all the basic fundamentals of Make-Up. This course will make you understand the foundation of Make-Up in terms of Theory, Application Techniques, methodologies, choosing the right products & effect understanding, client feature specific chapters.And More Important things like Current Techniques , Right Way To Face Re-shaping,Ways Of Contouring , Multiple Outlooks.
We Also Provide Different Types Of MakeUp Courses
Arabic Bride With Hair Style
Traditional Bride With Hair Style
Western Bride With Hair Style
Engagement Look With Hair Style
Cocktail Look With Hair Style
Red Carpet Look With Hair Style
Party Makeups With Hair Style
Hurry! apply for our Professional Pro Crash-Makeup Course Now-
After reading course content you would definitely get to know that this course is very beneficial for you. So what are waiting for? Just click here at get complete details about course.